Sábado, 31 de Março de 2012
Quinta-feira, 29 de Março de 2012
The painted area has 3,7 cm x 5,0 cm. The frame measures are 5,7 cm x 7,0 cm. This is the smalest I ever painted.  The biggest problem is to keep pastel pencils thin enough to draw hands and face details. But even with these dificulties I'm enjoying this work. After finishing some frames (it's not easy tu cut the glass because 0,1 mm becomes a great error and the glass is only 2mm thick and breaks easily) I'll share with you a few more pastel paintings I'm doing now.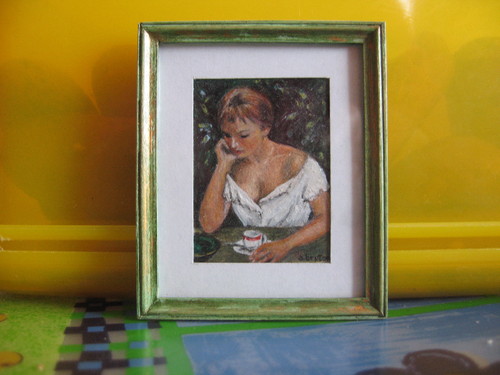 Domingo, 25 de Março de 2012
I keep on trying pastel work! Slowly!!! I don't have the time I need to develope tecnics and adapt my skills as a full scale painter to a miniature work.
This weekend I had a few hours. I decided to try Derwent and Faber pastels together. After, a very thin brush with watercolour pencils... all together...
The frame is still virtual. May be next week I can show a finished work. Meanwhile I wish you all a very Happy Easter.