Quinta-feira, 19 de Maio de 2011
The Artisan Selection Committee met on April 30, 2011 to evaluate Artisans submissions and I proudly inform all my readers that my membership in the Guild has been elevated to that of Artisan member in the category of Accessories/Birdcages. On May 2, 2011, the Committee's evaluation was reviewed and  approved by the Board of Trustees of IGMA.
My Artisan Certificate arrived today and here I  display it with the promise to continue the pursuit of perfection in my work.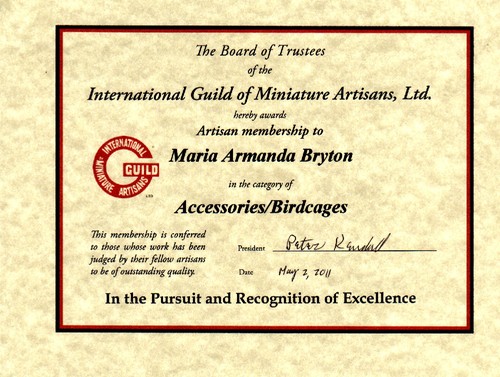 I'll be back soon with the photos of the pieces I submitted
Quarta-feira, 18 de Maio de 2011
The idea is not original but I wanted to do it my way. From the structure to the tinniest detail I enjoyed the pleasure of hand making all of them, engaging myself in a kind of game. At same time I tried new materials I had the experience of adapting some technologies to 1/12 scale. The result was an intensive 8 days of work without stress, full of fun and pleasure. Of course this is not what I can call a "professional" work but it was worth while the effort. In the end I like the final view of this "cosy" corner as Ana Maria Morgado called it in her Blog http://ajourneythrougharts-and-miniatures.blogspot.com/
She is now the owner of this piece.
I offered it to her with the same pleasure as I did it!