The Artisan Selection Committee met on April 30, 2011 to evaluate Artisans submissions and I proudly inform all my readers that my membership in the Guild has been elevated to that of Artisan member in the category of Accessories/Birdcages. On May 2, 2011, the Committee's evaluation was reviewed and  approved by the Board of Trustees of IGMA.
My Artisan Certificate arrived today and here I  display it with the promise to continue the pursuit of perfection in my work.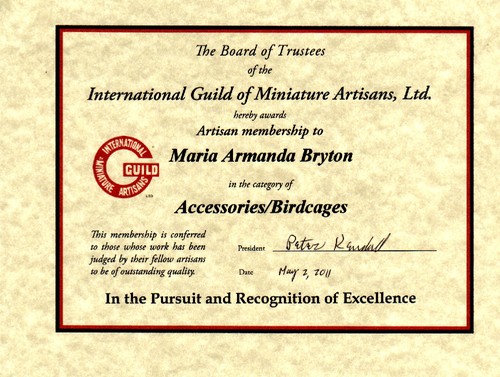 I'll be back soon with the photos of the pieces I submitted
De
Josje
a 20 de Maio de 2011 às 10:24
Fantastic! Congratulations!
Your work is wonderful.
Thank you, Josje.
I really do appreciate your work too.
Unfortunatly I hardly have time for "miniaturing" so I don't come to my Blog as often as I shouild as well as I don't visit my prefered Blogs as often as I would like... Yours is one of them.
Above all I appreciate the care you put in your research work! Congratulations!
And this time you started a hard job! A second house! Enjoy it as much as we'll enjoy seeing it ready soon.
Best wishes
M.A. Bryton
De
zaphia
a 26 de Maio de 2011 às 12:35
Muitos parabéns minha amiga, estou muito feliz por ti.

Muitos bjs


Sofia
Felicidades Maria!
Tu gran trabajo merece esta acreditación.
Con mi cariño y admiración de siempre, besos enormes,