Finally I decide to try a very simple electric work. When I build "Villa Joana" (my grand daughter's dollhouse), I had the first contact with electrical materials. In the beginning I was a little nervous… my knowledge in electricity field is not enough and I fear everything could explode… but, nothing happened so I started being more confident. When I was installing the lamps in the house I thought it would be great if I succeed building some lamps. So, I decide to start with this simple design. I saw it in an issue from February 2006 of "Dollhouse MINIATURES" (page 38). I didn't follow the instructions but I copied the general idea.
The author is Fran Casselman. I couldn't find any site or Blog but if you search with Google or any other browser there are lots of references as well as a page on Facebook.
I also decide to introduce something different from the presented model so, I asked a friend to cut a decoration for the lampshade. I draw it and he did the laser cut.
It was not so easy to improvise materials for making the electrical connections. I used a small 9v bulb we generally have in car's instruments like miles counter. Those bulbs have outside wires so I had to solder them to the electrical wire. Amazingly I didn't melt the tinny wires!!! Beginner's luck? May be… But it works till now! Problem: the bulb is not replaceable!
In the middle of the four wood pillars there is a thin brass tube. The electrical wire goes inside. I had to carve the top of the four pillars in a half aspheric shape to fit a brass piece that serves as support. Inside this brass piece I introduced a hard plastic tube to isolate and prevent heating. Well, this description may seem a bit complicated but if you look at the photos I'm sure you'll see it clearly.
I had to create a standard model to cut the four brass wires that sustain the lampshade (all with the same size and plied exactly equal). It was a little difficult to fix them once I didn't want to use glue but I like the result.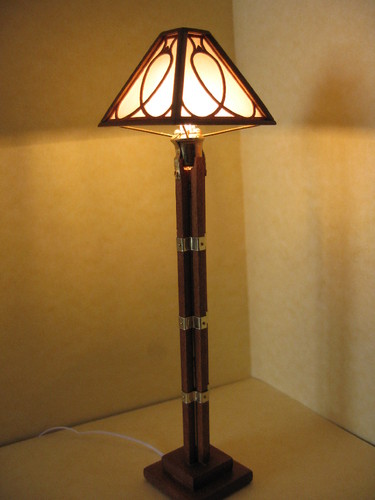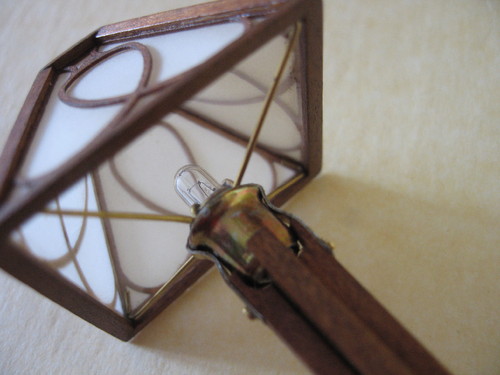 The four pillars around the brass tube are kept in place by brass bands fixed with tinny brass nails.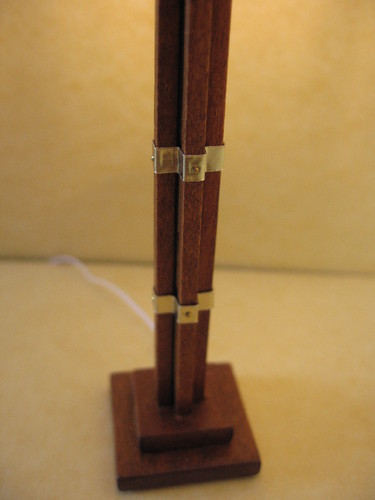 There are still a lot of building challenges I must solve before I try my own designs but I intend to do it soon.
I have a lot of new pieces in mind.